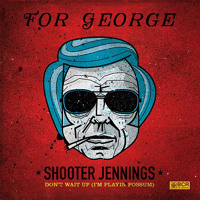 Om man ska gilla den här EP:n måste man acceptera att country understundom kan vara alternativ. Väldigt alternativ.
Det är ingen som helst tvekan om att Jennings är ute efter att hylla sin vän och mentor, men han gör det på ett väldigt eget sätt. Det börjar med en habil originallåt som var avsedd för The Possums sista (?) album som aldrig blev av. Sen följer en handfull egna tolkningar av gamla hits.
Living In A Minor Key framförs med mycket känsla till i huvudsak akustiskt komp; She Thinks I Still Care och If Drinking Won't Kill Me är helt olika originalen med sina spöklika stämningar, men ändå inte, och jag är säker att både George och Waylon sitter på andra våningen och ler. Tyvärr tror jag inte att detsamma gäller massakern på The Door.
Trots allt en medelmåttig EP som kräver ett öppet sinne för att vara njutbar.